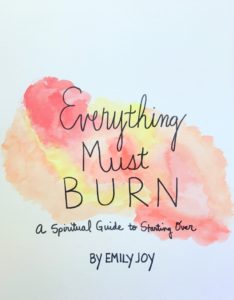 "Everything must burn." Asserting that everything must burn is a radical statement. This journal is great for those who are…
…on the path of spiritual and creative healing after experiencing pain or trauma.
…tired of trying to fix theologies and systems that might never have been meant to work for justice in the first place.
…attempting to keep their heads above water as they wrestle with changing beliefs and understandings of God and the world.
I get it. I've been there. Asserting that everything must burn is an acknowledgement of the often-painful fact that sometimes, restoration means letting go of the past and starting over from scratch. Which, unless you're an emotionless robot, can be pretty scary. But if we are going to heal, we have to be curious and willing to throw out old and harmful beliefs about God, others, and ourselves that are no longer serving us or making the world the kind of place we want to live in. This journal is meant to help facilitate the examination of basic beliefs and assumptions that may be holding us back from spiritual healing and wholeness and suggest a new way forward.
Because everything must burn…
…in order to grow again.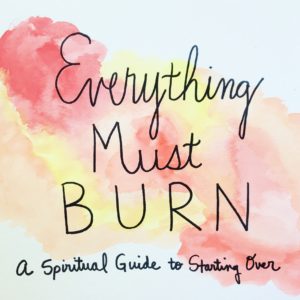 Everything Must Burn: A Spiritual Guide to Starting Over Journal
8.5 x 11 spiral bound journal, hand-painted and scanned cover. Approx. 20 pages. $3.50 shipping & handling.
---